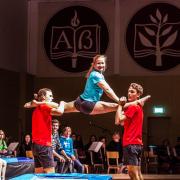 Each year the entire school community of St. Stanislav's Institution celebrates St. Stanislaus' Day to mark the feast of the Institution's patron. This year the holy mass and the solemn celebration took place on 14th November 2017, in particular to celebrate the many talents and successes of the pupils of Alojzij Šuštar Primary School and the students of Diocesan Classical Gymnasium. It is also to express gratitude to the keen supporters of the Institution and Heavenly Father for all the abundant blessings. This year's celebration was in hands of PA teachers, whose programme was a brilliant feast of mind, soul and body. The performance was given by children and students of all schools in St. Stanislav's Institution, proving that the Institution's mission is being admirably fulfilled.
St. Stanislaus – Reaching Your Goals With Perseverance
The Archbishop of Ljubljana Msgr. Stanislav Zore, who celebrated the mass with other bishops, many school and parish priests, spoke of the importance of finding motives to carry on in life despite failures, which are a part of it all. He offered a few remarkable examples from everyday life and from the life of Institution's patron saint St. Stanislaus Kostka. The latter persisted in fulfilling the goal set, proving that no matter what, nobody can take away experience that fulfil our lives. St. Stanislav Youth Choir under the conductorship of Damijan Močnik and St. Stanislav Girls' Choir under the baton of Helena Fojkar Zupančič sang at the mass. The latter performed Missa brevis for choir and percussion by Swedish composer Per Gunnar Petterson.
Changing Physical Exertion into Something Positive
The event's guiding thread was With sports through life, which was neatly demonstrated through the acts of kindergarten children doing some folk dances and breath taking performances by rhythmic gymnasts, jugglers, basketball players, dance groups and finally the acrobats. Director of St. Stanislav's Institution Roman Globokar, Ph. D., accentuated in his address that healthy physical development goes hand in hand with intellectual and moral growth of any individual. The official speech was held by Stanislav Pinter, assistant professor, Ph. D. of PA at the Faculty of Sports, University of Ljubljana, who encouraged the audience, in particular the young, to do sports at any point in life as it invigorates and offers an uplifting learning and competitive environment. All this helps you to embrace the positive perspective of life.
The first year alumni of The Diocesan Classical Gymnasium, who are celebrating the 20th anniversary of their maturity exams this year, pleasantly surprised the school community with presenting resources for the Needy Family Fund of St. Stanislav's Institution. /Lily Schweiger Kotar/