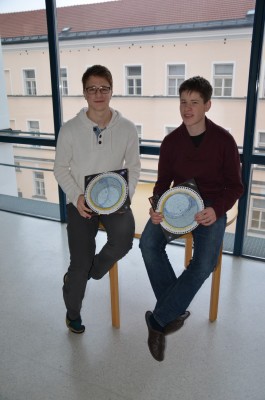 Last weekend was extremely successful for four students of the DCG who took part in the Slovene national competition in astronomy. These are Matej Urbančič (year 1), Gašper Jalen (year 2), Vid Primožič (year 3) and Andraž Ristič (year 4). The seniors Andraž and Vid won the gold, thus gaining potential invitation to the XXIIIrd Astronomy Olympiad to be held in Saint Petersburg in spring 2016. There will be five representatives of Slovenia altogether participating in the international Olympiad. Matej and Gašper won the silver. Mark Loborec from Alojzij Šuštar Primary School also entered the qualifications for the Olympiad in his category.
Saint Petersburg Astronomy Olympiad is an annual international competition for high school students in solving astronomy problems and is attended by about 5000 students from Russian Federation, Armenia, Belarus, Bulgaria, Kazakhstan, Kyrgyzstan, Macedonia, Serbia,, Ukraine, Canada and Slovenia, Many prizewinners become professional astronomers and work in different astronomical institutions  all over the world.
Congratulations to all young scientists and good luck with qualifications!