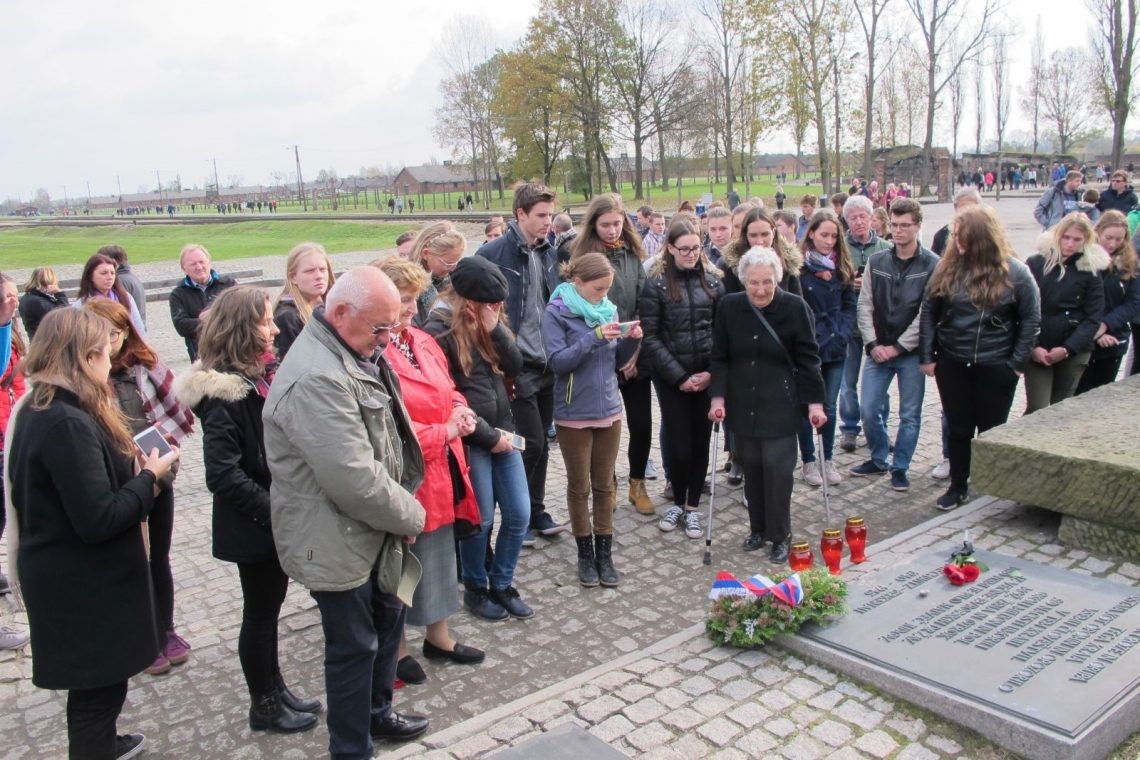 The above meaningful quote was a guiding thought for ten students of The Diocesan Classical Gymnasium and some others from different Slovene high schools (from Maribor, Celje and Brežice), who joined the excursion to Krakow and Auschwitz on 25th and 26th October 2017. They were accompanied by the Auschwitz survivor Sonja Vrščaj along with a history teacher and director of The Maribor Synagogue Boris Hajdinjak, who both authentically presented the WWII atrocities committed in the concentration camp Auschwitz. Out of 63.000 Slovene prisoners in Auschwitz, 1.350 never made it back home. A television crew from Radio-Television Slovenia made a programme to mark the occasion, for which students showed a strong interest.
Here are a few impressions by our students, which speak louder than any reports. Luka was disturbed by the discrepancy between the atmosphere in lively Krakow and then deadly Auschwitz and extremely thankful that he can live in peace. Marjeta was touched by Ms Vrščaj's testimony, which shed an entirely different light on the Auschwitz experience. "For me it is totally incomprehensible what the motive of chief executors was? What role did conscious manipulation play? These questions leave me feeling empty; however, what is of top priority today is that such a mistake will never be repeated again." Nika appreciated the fact that the students had the opportunity to listen to striking testimonies given by Ms Vrščaj and Hitler's stolen children already on the way to Poland. The stories vivdly depicted the time of cruel reality. "Although we were prepared to what we were going to see, I could not get rid of the shocking feeling, when entering gas chambers or seeing a pile of cut hair… This is one of the things everyone should see in their lifetime." Nina was affected in particular by Ms Vrščaj words that the Slovenes in Auschwitz suffered also so that the young today would have a homeland and be proud Slovenes. "This is one of the visits every young Slovene should make in order to understand the price that was paid for freedom we enjoy." Tjaž had hard times understanding human evil on one hand and on the other human drive to survive. Kristjan found it unimaginable that he was standing on the very same place where some many prisoners died. He was shocked at ghastly circumstances prisoners had to face, the sight of prisoners' personal items, crematorium and the starvation cell. "When I returned home I realised that the world was not the same any more. At least not for me:"
All the students were also critical of the impact words may have on triggering such monstrosities through improper use of social network services. An echoing snowball effect may be created, and heavy casualties are inflicted on both sides – the aggressor's and victims'. War has never solved any problem.
The person in charge of the Auschwitz excursion at The Diocesan Classical Gymnasium is Daša Oberč Deželak, teacher of French and Spanish. She has organized it impeccably and with much committment for the second time in a row. /Lily Schweiger Kotar/