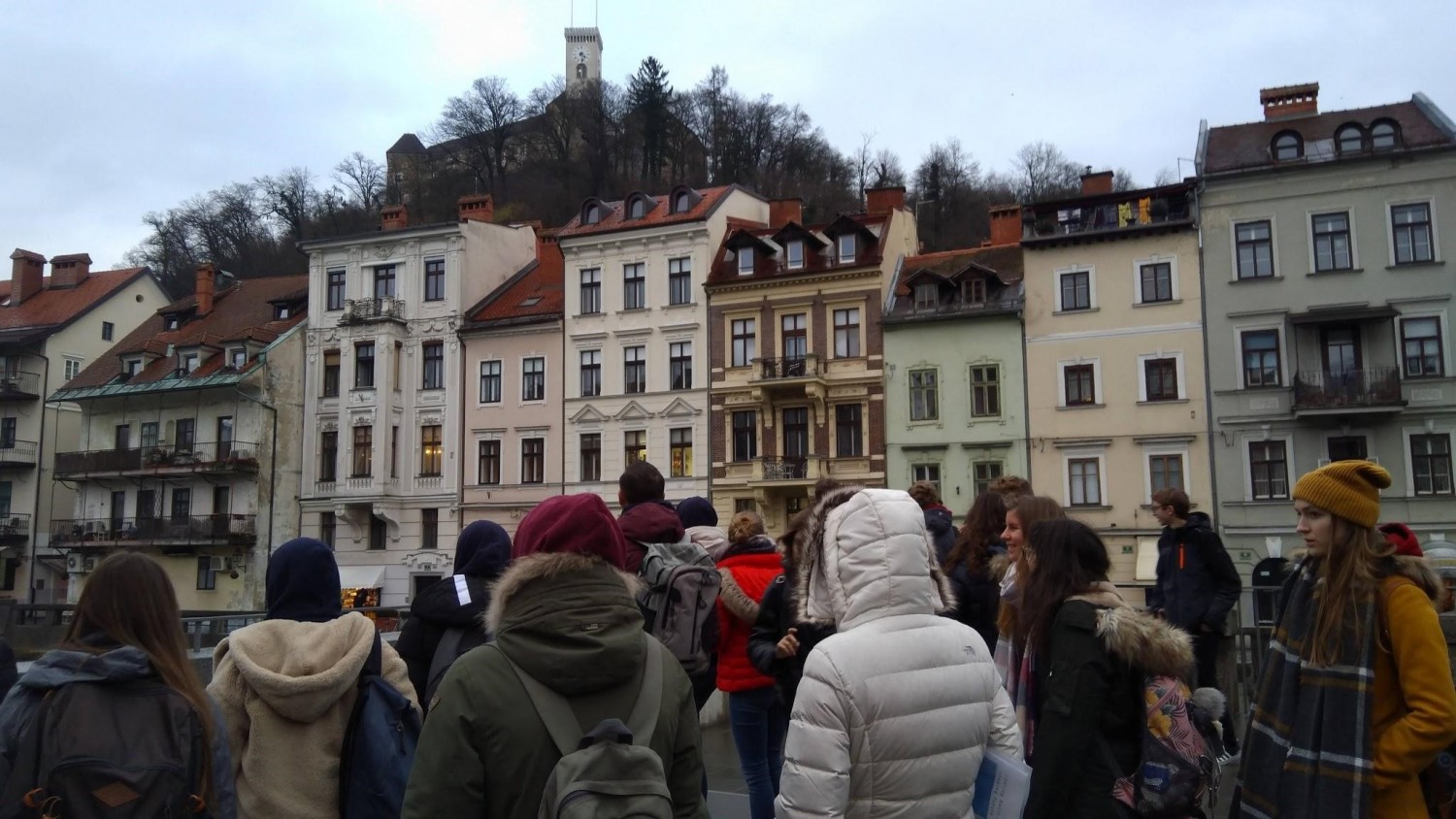 As a part of an Erasmus+ exchange, which took place from 9th- 13th February 2020,  twelve students from Belgium and eight from Scotland visited St. Stanislav´s Institution together with seven teachers from both countries. The title of the exchange was Small countries strong cultures, suggesting that the aim of the project was to strengthen national identity with the young people.
Monday, 10th February – Finding Our Common Ground and Roots
Our guests had already come to Ljubljana the previous day. On Monday, we started the day with a tour of the school and an exhibition of our photographs made as a part of a project Bittersweet memories. For the project we had to photograph items that would remind us of our counties and our roots in case we were forced to flee the homeland. We proceeded with lessons of Slovene and Latin and a presentation of the principle features of a Roman city. After lunch we drove to the city centre to visit the City Museum of Ljubljana and the exhibition of the history of Ljubljana. We ended the day with a trip to the city centre.
Tuesday, 11th February 2020 – Having Fun in the Old Days
On Tuesday morning there was a presentation of Saint George, the patron saint of Ljubljana. Then we proceeded with workshops of drawing, dancing, singing and storytelling. Saint George was the topic of all the workshops. In the evening we met around the fire, which was used for cooking our dinner, and we presented what we had done in the workshops. This evening was also the time for playing games and talking with our new friends. Some of the parents joined us as well.
Wednesday, 12. 2. 2020 – Boosting Family Values Through Cuisine
After a concert of a choir and some ensembles from Saint Stanislav´s Institution, we drove to Bled. We walked almost around the entire lake and then visited the town of Radovljica. There we learned how gingerbread is made and we even tried to decorate our own gingerbread hearts. After that we had a lunch. Some traditional Slovenian dishes were served and the owner of the restaurant entertained us with traditional Slovene music. After speeches given by our teachers, we returned home and spent the last evening with our guests, who left the next morning.
Some Students' Impressions about the Exchange
During the exchange I learned a lot about Belgian and Scottish history.
I was introduced to their culture and I greatly improved my knowledge of English language.
I got some new friends with whom I still have connections on social media.
I am very happy that I was able to be a part of this exchange.
/Jernej Koman, year 3/