Teaching Learning Activity 4 in Veliko Tarnovo, Bulgaria

Teaching Learning Activity as a part of the project Art Nouveau – Art Renouveau, Erasmus +, will take place from 11th – 18th April, 2016 in Veliko Tarnovo in Bulgaria. The purpose of the seven-day activities is to learn about the Art Nouveau movement in Bulgaria and to create new 'art renouveau' works of art. Students and teachers from Bulgaria, France, Germany, Rumania, Slovenia and Scotland create pieces of art together and  enjoy each other's company.  The mentor of the project at St. Stanislav's Institution was Alenka Battelino, teacher of English.
 Arrival Day, Sunday, 10th April 2016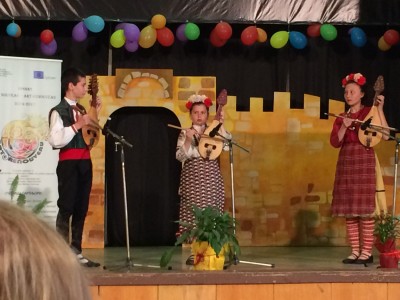 On Sunday we met at the airport at 8am and set off for Bulgaria. We first arrived to Sofia, the capital of the coutry, and took a bus to Veliko Tarnovo where we would be staying. From the start, I found Bolgaria very interesting. Within the first few minutes, we saw two horses and a donkey walking across the street. Tarnovo, however, is much different and more similar to some Slovenian cities. /Maja Peklenik/
Day One, Monday, 11th April, 2016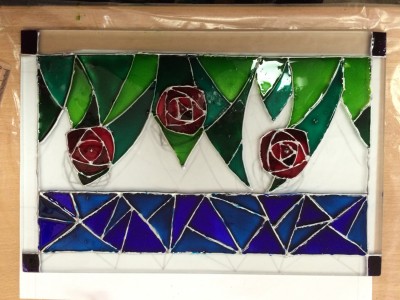 On Monday, we met at their school at 8.50. They introduced some history of the country and told us a few facts about it. They also held a talent show, where they taught us some of their traditional music.
After lunch, we had workshops in the theme of Art Noveau. There were three different activities possible: making painted pendants, glass drawing and mirror and felting. We spent the afternoon with our host families.
I can already tell this will be a great exchange. /Maja Peklenik/
Day Two, Tuesday, 12th April, 2016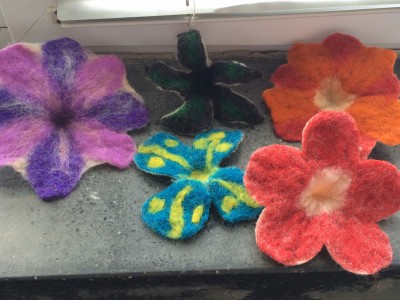 On our second day in Veliko Tarnovo we went to the old city center and learned a lot about Bulgarian history and history of Veliko Tarnovo. After the trip around the old town we had workshops in school, during which we created handcrafted flowers out of wool.
This morning we gathered at 9:30 right next to the Mother Bulgaria monument. From there we proceeded to the old town, where we saw sights such as the monkey house, Tsarevets, monument dedicated to famous Bulgarian rulers, a monument dedicated to the Bulgarian merchant Hadji Nikoli and a famous Bulgarian inn.  During our many stops we had a short break dedicated to souvenir shopping and town sightseeing. I was impressed by what a lovely medieval town Veliko Tarnovo looks like and how much history there is behind it. Later on, we went to a restaurant, where we ate Bulgarian mushroom stew, steaks with mashed potatoes and delicious dessert. After lunch, we returned to school where we had workshops. This time I was felting, therefore I created woolen flowers with the help of Bulgarian students and teachers. The creativity of various students and teachers was just amazing, and I think we created some beautiful handwork. We were also pleasantly surprised, when we saw ourselves in a local newspaper. /Matija Trošt/
Day Three, Wednesday, 13th April, 2016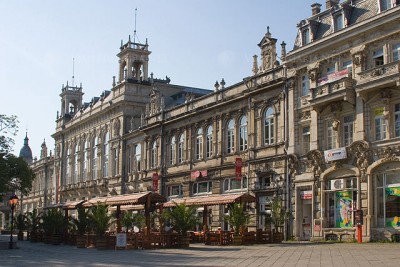 Wednesday started a little bit differently than any other day. We gathered earlier, e. i. at 8 a.m., and filled up three buses prepared for this occasion. I was on bus No. 3 and our group went on a trip to the city of Ruse. Because we drove there for quite a while, I played cards with two of the French girls. It was interesting to see that we have so many very similar games. We also played a completely French game. However, the trip ended, rather too soon to my taste, and we got to our destination. Ruse is a wonderful city with many interesting Art-Nouveau sights. After the guided tour through the city, our team had an hour- long break. Because the temperatures were very high everyone was a little bit lazy, so in the end two of my friends and me went around the city. My first goal was to reach the river Danube and when doing so, a very beautiful view opened. Some minutes and photos later we found ourselves walking back to the meeting point. The most interesting thing that I noticed was how intertwined the present and the past are. I saw an old church next to modern houses and old rotting warehouses as well as a railroad near modern sidewalks and roads. The present does not mind the past, it seems the city wants to give an impression there is no connection between the two. However, I noticed it. Moreover, I will remember it. After the break, we went to the museum that showed how people lived back then. Later on we visited two monasteries near the mountains. Because everything was beautiful, we went hiking for some time. After this incredible sightseeing, we returned into present life. Our (only) time. Everyone enjoyed the trip and nobody will ever forget it. /Peter Berkopec, year 2/
Day Five, Friday, 15th April, 2016
In the morning I woke up to my favourite tune of Bandiera rossa. For breakfast I had burek and some coffee, while sending yesterday's journal articles to prof. Podlipnik, who had given me the task of collecting everybody's journal articles. After breakfast my host, my co-partner Ema and me went to school, which was luckily just a 5- minute walk away. I had a workshop, where Špela, Ema and me made a poster entitled Bulgaria through my eyes.
Then we had 4 hours of free time, so we went for lunch in a fancy restaurant, which I do not usually do. We also went to two shops, where the girls bought some make up. Of course, I was suffering like in Tartarus. To make it up to me they bought me an ice cream with caramel spread! Because we had too little time, we took the bus to school. The bus was full of people, and they were not grannies returning from the market with fresh salad, but people from our exchange. When we all went off the bus, only two passengers remained there. (I checked). In school we had an exhibition of the stuff me made during workshops this week. During the final speeches, we were given diplomas, and I must say that the Slovenians besides the French were given the biggest applaud. A group photo was also taken (shame on our teachers, who did not represent Slovenia in the midst of paparazzi). Endless goodbyes followed, during which hands were shaken, hugs were given, friends were added on fb and selfies were taken. We returned to the host's flat to deposit of our stuff and then we went for pizza. /Nika Podakar, year 2/