Teaching Learning Activity as a part of the project Art Nouveau – Art Renouveau, Erasmus +, took place from 17th-23rd January 2016 in The Diocesan Classical Gymnasium. The purpose of the seven-day activities was to get to know the Art Nouveau movement in Slovenia and to create new 'art renouveau' works of art. Forty-seven students  and teachers from Bulgaria, France, Germany, Rumania and Scotland will study, explored and had fun together with Slovenian participants and their families. The mentor of the project at St. Stanislav's Institution was Alenka Battelino, teacher of English.
Arrival Day: Sunday, 17th January 2016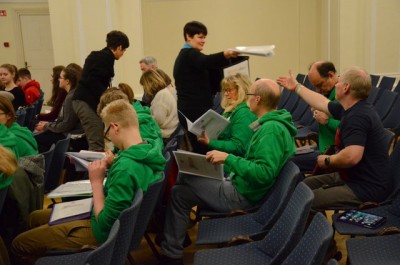 This Sunday started in anticipation of the Erasmus guests' arrival. Everyone at home was nervously cleaning, tidying up and organizing everything so that we could await our guests in the best possible state. The guests were from different countries and so were the scheduled times of arrival in Ljubljana. Since my brother and I were both hosting exchange students from two different countries, we welcomed our German guest at 4:30 pm and our French guest four hours later. The first conversations are always short and awkward so it wasn't much different in our case. We discussed topics from weather to school grading system in Germany and France. Our guests, who felt rather exhausted from the trip, and us, tired out by the stress, went to sleep at a relatively early hour in keen anticipation of the following week full of new adventures. (Maria Heller, Slovenia)
Day One: Monday, 18th January 2016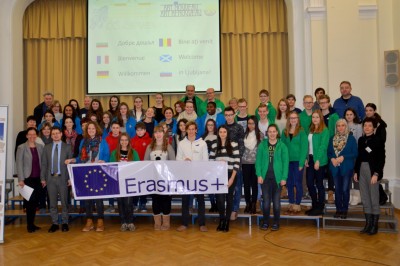 The students and our guests arrived at the school in the early morning hours. The guests were welcomed by the headmaster and posed for a group photo in the Matija Tomc Hall. A detailed presentation about Art Nouveau in Slovenia prepared by four Slovene senior students followed. When the introduction to Art Nouveau was over, ReMixed Choir of the Diocesan Classical Gymnasium put on a musical performance. The groups of foreign students were taken to the cafeteria to have lunch and then took a bus to the Ljubljana city centre. There, we were divided into four groups, each group consisting of students from all five countries, their teachers and a tour guide. The guides then proceeded to show us around the city, presenting Art Nouveau buildings of Ljubljana such as the Hauptmann house, The Sokol Gymnastic Society Hall, Grand Hotel Union and many more. After lunch, there was some time to explore the city on our own. At a quarter past four the programme formally ended and we were free to leave the city and return home with our guests. (Erna Killer in Lara Grum)
Day two: Tuesday, 19th January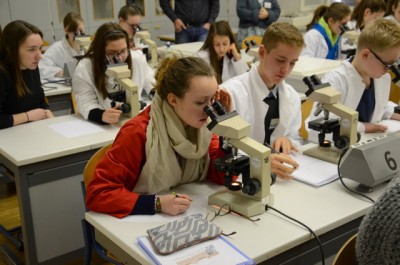 We woke up in now a little better known beds and we drove with our hosts to the big and an easy- to- get- lost place, which is our hosts' school, St. Stanislav's. After a short presentation of the history of the Institution we went on a tour around it. We saw the main chapel with a mosaic, the school library, a sports hall, the biology corner, and they told us a few facts about this school from the first hand. After that we had workshops of drawing and microscoping. One was more creative: we were drawing the art noveau motifs. The other was connected to the morning session where we microscoped all sorts of things. The most interesting was to microscope the snakes' skin.
In the afternoon we had three other optional workshops: living art, jewellery and graphic design. (Kathrin Quick and Anika Odar)
Day Three: Wednesday, 20th January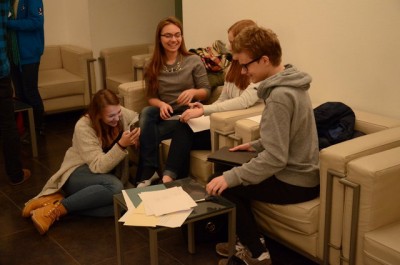 As usual foreign students met in Matija Tomc Hall, where Mrs. Battelino welcomed us and unfolded the plans for the day. The presentation on Slovenia followed. Later, we all started the workshops which were on graphic design, literature and architecture. In the graphic design workshop students worked on computers. In literature workshop they had to translate poems from English, French and German into their mother toungue or first foreign language. Finally in the architecture workshop, students decided on the basis of a picture of a building, which elements they liked the most so they could decorate some new building decoration. After the workshops hosts picked up their guests and headed home.
Day Four: Thursday, 21st January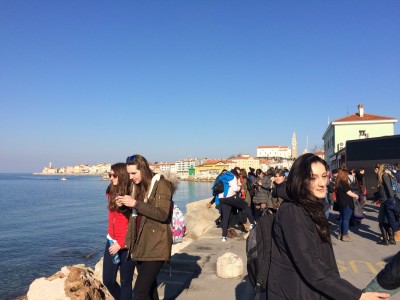 On this day the participants in the Erasmus+ project Art Nouveau – Art Renouveau in Slovenia went on a trip to Škocjan Caves and coastal town of Piran, enjoying workshops, related to Art Nouveau.
We set off at 7.45am towards Piran. On the bus, we heard some data about Karst and Piran and soon we arrived to Škocjan Caves, where we descended into the depths of this Karst ruby. In the caves we admired the diversity of the cave system, some beautiful stalactites and stalagmites and were amazed by the stunning underground canyon, which is said to be the biggest in Europe. Through the canyon flows the river River and the guide told us about its past flooding that once reached the height of 140 metres. At our deepest point in the cave, we stood 170 metres under the ground. Upon leaving this wonderful cave system, protected by UNESCO and other organizations, we had lunch and headed towards a beautiful coastal town Piran.
We were divided into three groups, each led by a Slovene student as a guide. First, we visited Tartini Theatre, where we saw some beautiful Art Nouveau ceiling paintings and other elements of the era and then proceeded to Tartini square. There we learned about Giuseppe Tartini, the famous composer, listened to the legend still alive in the red Venetian house and saw the Court, Town hall and the church. Afterwards we walked all the way up to St. George's Parish church, where we found out a lot about the church itself, enjoyed the magnificent view, the city defence walls and so much more. Some free time followed, but soon after we listened to a presentation given by the Institute for Mediterranean Heritage in Slovenia and then the workshops started. There were three workshops: one on calligraphy, the other on making utensils and the last one on drawing, which eventually turned into drawing the city's landscape thanks to sunny and warm weather. After these very creative workshops, we took a walk down the coast and headed home. The day has left a lasting memory of a wonderful experience of both Piran and the Karst caves. (Alexander Centa)
WORKSHOPS PRESENTATIONS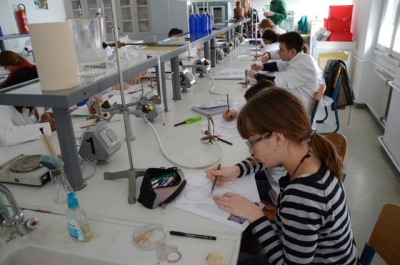 Workshop Presentation: Living art
Albrecht Dürer said that »a good painter is full of invention within and were he able to live for ever, he would always have something new to bring forth. « How true is that we found out at the workshop Living art. It was a completely new technique to us and it inspired us because in this case it wasn't only us who were creating, also bacteria were.
After a short explanation about what and how we are going to work, we took papers and made some sketches. When we came to serious business, we had to comply with safety instructions. With protective masks, gloves and chemistry gown we looked like professionals. In the flame we sterilized special sticks and with them we touched the bacteria of particular colour. We put our sketches under petri dishes, so we were able to see the pattern, we drew by using sticks "infected" with bacteria. We couldn't see what we were actually drawing, which we found funny. The weakest point was the smell – bacteria stink.
Since we didn't see the tracks of bacteria, we are excited to see the final result. Our paintings are going to develop day in, day out, which means we really participated by creating living art. (Nadezhda Ivanova Zlatokova, Alper Selim Aliosman, Coman Dumitru-Alexandru, Nanau Bianca-Nicoleta, Francesca Bailie, Marija Poklukar)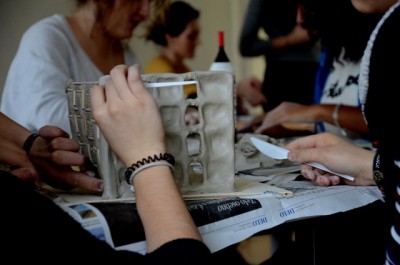 Workshop Presentation: Architecture
The architecture workshop started at 9 o'clock in primary school. We were divided into four groups and three students of architecture explained what we were to do. In the first workshop each group got a picture of a Secession building that we saw on Monday in Ljubljana and got various materials from which we had to make a pavilion or a model. They all turned out very well and each one was different form others. In the second workshop (after lunch) each group got a picture of a Secession facade with colourful patterns and a few potatoes. We cut the potatoes in different shapes, thus creating the stamps. We got the colours that were also used on the building in the picture. We dip the stamps in colours and pressed them on the paper, so we got different patterns that were inspired by the building in our picture. The whole architecture workshop was really interesting and fun and I believe we all enjoyed it. (Tinkara Toplak, Tinkara Uršič Fratina)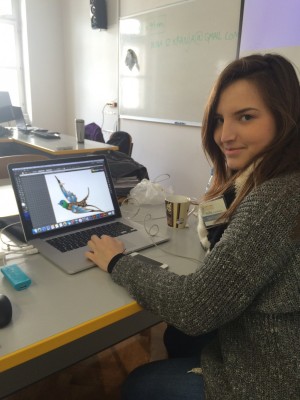 Workshop Presentation: Graphic Design
Graphic design workshop aimed at teaching the participants how to use the basic tools in InkScape and create a pattern with only one square. The created design was then printed on coffee mugs.
On Tuesday Mrs Nina Malovrh tought us about InkScape. We all created the same pattern. Following her instructions, we tried to do the things she showed. If we did not know how to continue or use something, we consulted two Slovene students who are experts in this field. We finished our tasks in about three hours. Mrs Malovrh also suggested considering Wednesday designs iun order not to not spend too much time only on thinking what to do.
On Wednesday we commenced with some sketches on a piece of paper and we started creating. Everyone was doing a different thing. Some of us made Art Nouveau themed designs with flowers and birds and motives from Art Nouveau buildings, whereas others went in a different direction such as pixel designs or just random patterns. A variety of techniques were used. Some just drew shapes without any references, some searched for inspiration and tried to recreate an image and some took photos and turned them into drawings. The patterns were made in a number of ways, too. Many did the square first and then just copied more squares but most of us simply applied shapes and lines directly on to blank mug print. Some of the young designers finished faster than others, so they were told to create their phone screensaver in order to match their phone and mug designs.