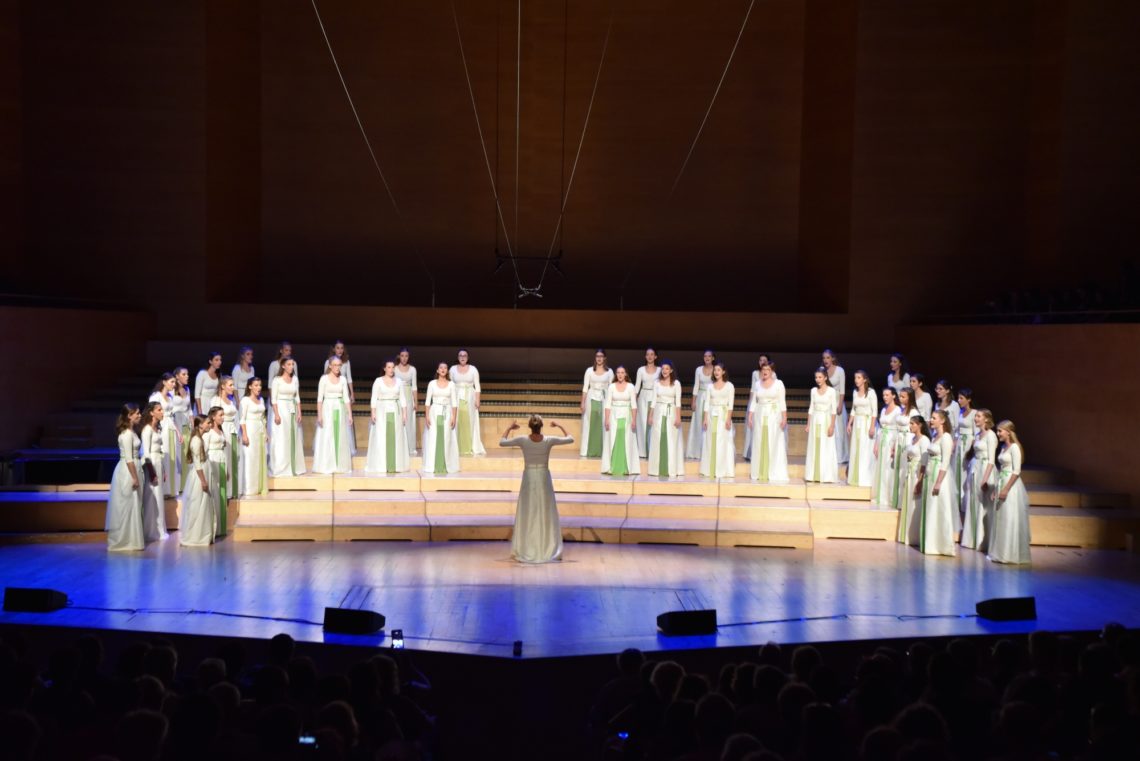 The highly anticipated concert took place on 28th July, 2017 in Auditori, Barcelona. Considering the audience response the event was an unforgettable experience and the girls did a fantastic job! Under the capable direction of Helena Fojkar Zupančič the choir presented the selection of songs, which exceled in versatile style, contemporary features and emphasis on the Slovene choral compositions.
The entire time prior to the concert was dedicated to preparations and final rehearsal details of the highlight of the tour. There was great excitement in the air – nevertheless this was the very first performance of a Slovene choir to sing at any world choral symposium. It was the conductor, Helena Fojkar Zupančič, who broke the ice by singing a verse from a Slovene folk song: God, give us a pleasant evening!, after which the entire choir joined in. Three compositions premiered at the 11th World Choral Symposium, namely Jerusalem by Damijan Močnik (Slovenia), God of the Open Air by Bob Chilcott's (Great Britain) and My First Angel by Ambrož Čopi (Slovenia). All of them are in one way or other connected with peace, namely peace of mind, God's peace and peace among religions. Peace is expressed through various musical images and symbols. In this perspective, the choice of programme matched wonderfully the motto of the symposium Colours of Peace.
The audience was thrilled. Each song was accepted with incredible eagerness, especially the world premiere of Jerusalem, composed by Damijan Močnik, composer, conductor and teacher of Music at the Diocesan Classical Gymnasium. He, himself, also present and active at the 11th WSCM, commented on the piece: «What was been created is a picturesque and powerful fresco, which united enormous sound contrasts into a fervent prayer for peace«. It seems the audience was more than touched by the idea of unifying in pledge for world peace, as they all sang along the meaningful words taken form the song: May they prosper who love you. The director of St. Stanislav's Institution Roman Globokar described the concert enthusiastically as »an explosive mixture of topmost choral know-how, coordinated moves, youth thrill and vigour. The listeners were hit in their hearts.« Standing ovations proved he was right. The girls left the stage moved and teary-eyed, winning together with the conductor high praise for a fantastic choral event.
It is strongly believed that St. Stanislav Girls' Choir certainly lived up to the reputation of outstanding Slovene choral singing. /Lily Schweiger Kotar/