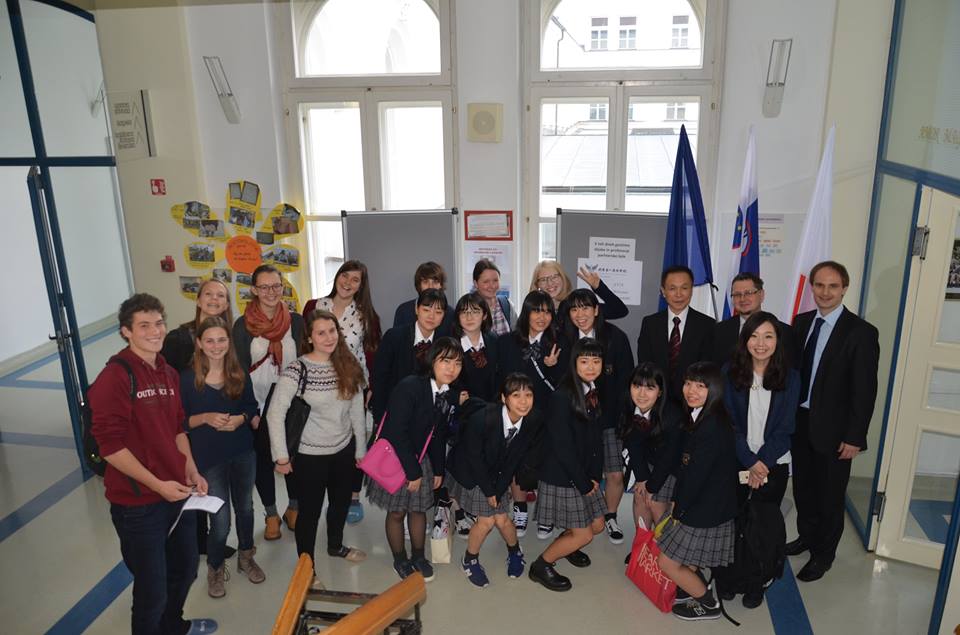 An exchange with a Japanese school in Tokyo took place from 17th – 21st November 2017 in St. Stanislav's Institution. Nine Japanese students were accompanied by the deputy head Tadoshi Takizawa and their English teacher Yuka Marubashi.  This is how Jerneja, one of the hosts, saw the event through her eyes. This has been the first student exchange with a Japanese school ever.
Much anticipated exchange
Japan – the land of sushi, samurai and green tea 9400 km away. Homeland to a girl who will be my guest for the next couple of days. A girl from a totally unknown culture, who speaks a completely different language. You probably understand why I was nervous. On Friday, we awaited our guests at the entrance of our school, where we discussed excitedly everything we read on the internet and in books about the Japanese culture. When we saw the white school van approaching we still couldn't quite believe that after a year the exchange is actually taking place and we are about to meet our Japanese friends. Soon we were standing face to face with 9 smiling girls and two teachers. When we all found our exchange partners, the guests went to change into their school uniforms. After that, we took them on a quick tour of the school. They were especially impressed by St. Stanislav's Chapel and the dining hall! Then it was time for the Slovene teacher Mr Puc to explain the basics of Slovene language and history, which they found really interesting. Ana and Lucija then presented our beautiful country Slovenia – its traditions, history, cuisine and delightful hidden places. They couldn't believe there are only 2 million people in the whole country! After lunch, when they tasted and really enjoyed tortellini, we went to Ljubljana city centre using the public bus, which was quite a shock to our guests, especially when they heard there is no underground and the only way to travel around the city is by bus. After having a quick tour of the most important sights, there was some free time for us. I took my guest to Ljubljana skyscraper to show her the view from the top, but I felt a little embarrassed when calling the building a skyscraper when I heard how tall some buildings in Tokyo are!
 Visit to the Japanese Ambassador to Slovenia Keiji Fukuda
After that, the entire group paid a visit to the Japanese ambassador to Slovenia Mr Keiji Fukuda, who kindly welcomed us in his residence and even prepared a delicious dinner for all of us – his chefs made sushi, which I had the honour of trying for the first time. I even learnt how to use chopsticks – well, at least I tried, it's harder than it seems! It was quite late when we were finished, so my guest Luna slept almost all the time on the way home.
 Enjoying Bled and The Soča Valley
On Saturday I showed her the traditional Slovenian breakfast that helped her discover how amazing honey on bread with butter is. After that we took the train to Bled and went on a short walk and even went up the castle, where she loved the view and the museum inside. Naturally, we had to try the famous traditional cream cake and we even went shopping for some souvenirs. When we returned home by train, we decided to watch a Japanese movie about a brave Samurai that rescues a girl in danger – Rurouni Kenshin, but we were both really tired, so we went to sleep right after having watched the movie. The next day we went on a really long walk by the Soča river, which Luna knows because of the Narnia movie that was once filmed here. We even stopped at a cafe where she tried the amazing (even though maybe not so traditional) hot chocolate. It was an outstanding weekend filled with different activities, but Luna was still quite happy to see a Japanese friend when we came to Jeglič Student Home. I think the exchange has been amazing so far and I can't wait for tomorrow, to show Luna a few other hidden and beautiful corners of our country. /Jerneja Koren, year 3/