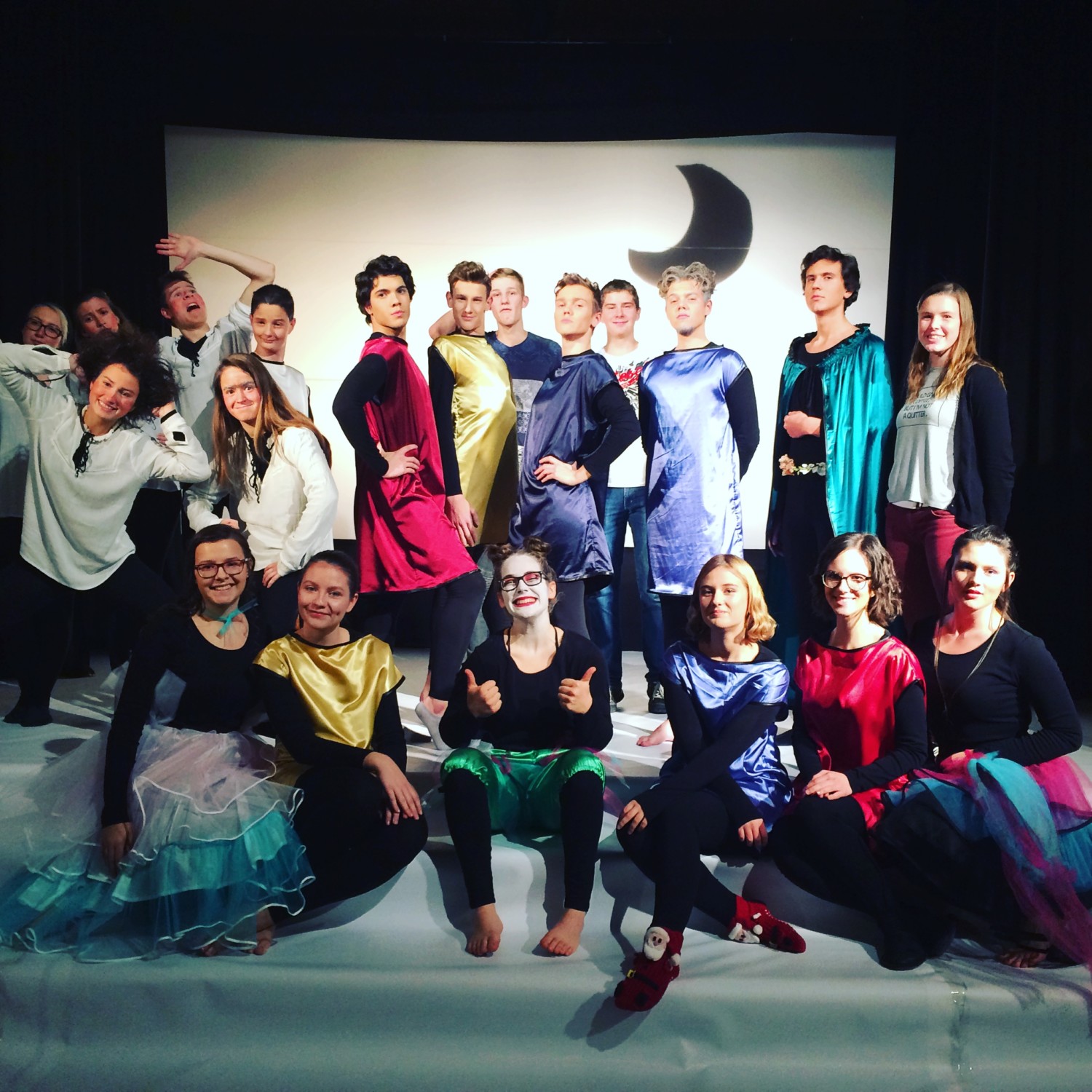 English Drama Club of The Diocesan Classical Gymnasium is staging this year A Midsummer Night's Dream by William Shakespeare. In this way, St. Stanislav's Institution commemorates the 400th anniversary of the lasting legacy of the world's greatest playwright in English language. Twenty-eight student-members of English Drama Club acted in four reprises, which took place in November and December 2016. Among them, there were eighteen actors, six scene artists, two lighting and sound designers, a photographer and a designer of hair and makeup. Thus, the play was entirely in student's hands, who worked under the mentorship of Alenka Battelino and Mojca Lavrič, who have been with the English Drama Club since 2012. After Oscar Wilde's Ideal Husband, this is already the second play to in English language at the DCG.
Read more
These are some reflections on the play by Anamarija Mihovec (Year 3), who acted in the play: William Shakespeare. Is there anybody who does not know his name? Not only did he write 37 acts and 154 sonnets, but there are also an enormous amount of new words and phrases he left behind. His works have had a huge effect on writers and literature worldwide. What an honour to act in one of his comedies!
How did it all start?
It all started quite simply, with an invitation over the school loudspeaker. But, let us take it step by step.
The beginnings, the idea. The first meeting was interesting: new faces, new opinions, new friends. Just a little bit about the author himself. A Midsummer Night`s Dream (our aim). First homework (already!): read the play in Slovene and think about the cast. First conversations and discussions, then reading (in quite difficult Shakespeare`s) English. There was (and still is) a lot of text. More than three quarters of it also incomprehensible at first. We did have a Slovene translation that helped us out. If as an actor, you do not know what you talk about, you cannot tell it right, can you? Casting definition. Rehearsals. Learning the text by heart (some have a lot of it, others a bit less).
Rehearsals are underway. I stopped counting them at twenty. (Just kidding). Actually, I did not have to count them. It was a pleasure to be there. Talks in Slovene, then in English and some laughter. The first part of rehearsals consisted of sitting and reading with a book in our hands, the second part were movements over the stage. Every Thursday one hour and a half spent in the company of people who all wanted to put Shakespeare`s work on stage. Slow, but sure progress.
Doubts? Intense rehearsals at the beginning of holidays. First clear "visions" of how the scene should look like. A few problems. Illness, not (yet) knowing all the words, bad mood (not a lot, of course!). We still tried to pull it all together and do our best. And that`s how it progressed – a bit better every time.
Talks about the costumes and hairstyles. A lot of ideas. Brain storming. Scribbling notes. The main idea of simplicity, black leggies and shirt, in different colours, depending on the character. "Let the story be obvious!" Hairstyles. Variety of them among actors. A day when we tried on all of them. (Also the day when I scared myself by looking in the mirror. I really adore my hair now.). Whole play. Getting to know the scene (those shades – a beautiful idea, if you ask me.). We all hoped it would go well.
Open rehearsal. First group photo. Back to play. A huge surprise – a nice one – for all of us. A thrilled crowd (I`m joking, it was not really a crowd), but those ten who did watch the play were thrilled. That provided us with fresh energy. One last practice before the premiere.
The first night. Just a little bit of stage fright. Improvising. Every time we liked it a little bit better. First critics. We were pleasantly surprised by the good ones. Different aspects, different opinions.
Play reviews by some actors and visitors
"When I watched A Midsummer Night`s Dream for the first time I had no expectations. I was pleasantly surprised. The first thing I noticed was the scene, which was quite minimalistic. The floor and background were white and the only thing in the background were the shades of tree leaves and mushrooms.  Nevertheless, it was clear what the scene presented and the audience was made to concentrate on the play. As a photographer, I especially liked the lights. They made the scene rather three-dimensional. Thanks to Slovene up-titles, the audience can understand the play despite original Shakespeare's English. I kindly recommend watching the play to everybody – theatre lovers and beginners; the play catches your attention from the very beginning until you realise it`s over!" Andraž Novak; photographer

"I have participated in the play three times already, but I have never really watched it. I have always been working backstage and tried my hardest for the scene to look great. As I heard, the play is dynamic and interesting. I can hear that the actors are really trying their best." Ajda Kok, scene artists
 "I starred "Nick Bottom" in the play. I was, at least others said so, the star of the night. I couldn't really say that I stood out. (…) Anyway, I am happy about the play. It was my first big theatre experience. "You know, theatre is not the only stage-managed thing in life. It`s one of the many that tells it publicly and with pride. Life is a play. The Earth is our stage and we are actors. Every day we put on a different mask, trying to convince our friends and peers that we are cool enough, teachers and co-workers that we are smart, employers that we are very capable and a parish priest that we are loyal to God and devoted believers. We even get so accustomed to our masks that we cannot take them off and the face we look at in the evening is not us anymore … think about it… Do you really need to be a theatre actor to learn how to act? I absolutely disagree. I challenge you to prove me wrong…" Luka Benedičič, "Nick Bottom", actor
"A Midsummer Night`s Dream in the interpretation of The English Drama Club of DCG was a unique experience. Excellently-prepared actors upgraded the original and always actual Shakespeare's play. The interpretation, which is with this playwright always important) was first-class and represented a quality "theatrical" experience. Personal engagement of everybody involved should be emphasised. Especially the actors were well prepared and got accustomed to the roles taken, which resulted in an outstanding performance. Thus, acting was a key element in excellent characterisations and differentiation of characters. All actors formed on stage a convincing, effective and quality lot, though the scenery was occasionally too dry for me. Definitely worth visiting." Rok Jan Špiletič, theatergoer
Fin
Maybe the most important opinion of the main directors, A. Battelino and M. Lavrič. They thought it was good. They deserve the biggest "thank you" of course! One can do everything, if you really want to. Happy audience. The feeling of satisfaction, after all the input it was worthwhile. (Cake for everyone!). Hugs. We are one little family. It passed way too fast. That`s how our early winter day's dream is ending. Say that Shakespeare is boring or too hard, if you dare! /Anamarija Mihovec, year 3/