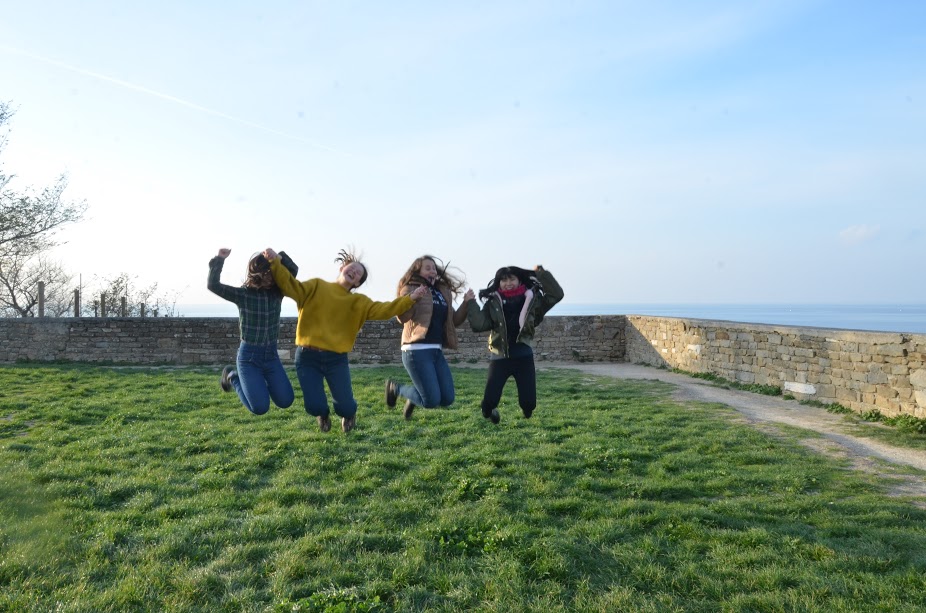 The last day of the exchange was in my opinion truly unforgettable. We started quite early in the morning in one of first-graders English class. The Japanese students presented their high school and Japan, namely its inhabitants, traditions, values and history. After an interesting lesson, a bus took us far away from school and everyday worries.
From Škocjan Caves to Piran
We were taking our guests south – to the Škocjan caves. I had never been there before either, so I was just as amazed as our Japanese guests were. The caves are truly beautiful and definitely worth visiting. You can hear the river at the bottom of the caves before you can even see it and the sound is magnificent. After a long underground walk, we really appreciated the sun and breathtaking nature outside. Our next stop was prosciutto producing facility named Loka, where we were served different kinds of cold cuts that we really enjoyed, especially the traditional prosciutto – I was quite surprised to hear that Japan produces it as well. We visited the factory wearing a bit odd and funny uniforms while discussing the differences between Japan and Slovenia. I was really taken aback, when Yuka, the Japanese English teacher told me that their traditional breakfast consists of cooked rice with spices and a raw egg. Our next and last stop was, in my opinion, one of the prettiest places in Slovenia – Piran. The Japanese – like most others tourists – fell in love with its narrow streets and blue sky the moment they saw it. We took a quick tour around the city and we admired the most famous and known buildings. We were lucky, because the weather was glorious that day, which allowed us to take many amazing photos that will help us remember the good time we had together. Janez, one of the Slovene students, and the Slovene teacher Mr Puc even decided to go swimming, and rather low temperatures could not possibly stop them. In the evening, before we left Piran, it was time to do the hard thing – to say goodbye. Since the Japanese were leaving early next morning, we would not be able to see everybody again, so it was actually the last time we were all together here in Slovenia. Although it was a sad moment, I think the fact that we shall see each other again in two months, helped us fight our tears. The day ended with chatting, singing, filming and even dancing on the bus back home.
 Arigatō
In the end I can say, that this exchange was an unforgettable and delightful experience and I am truly grateful for this exceptional opportunity I was given. In the end, I would like to thank everybody, who made it possible and helped us carry out this exchange. ありがとう, arigatō, thank you! Special thanks go to two teachers who were in charge of the exchange at our end, namely David Puc and Milan Zeman./Jerneja Koren, year 3/