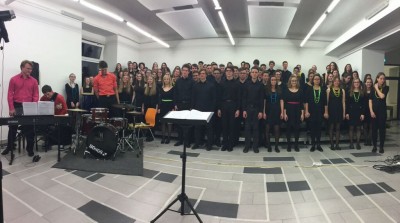 The (Re)mixed Choir of The Diocesan Classical Gymnasium visited The Bischöfliches Gymnasium Graz from 10th -11th March 2016. For years we have had fruitful exchanges with gymnasium in Graz especially in the field of language, whereas this has been our first music visit.
After a friendly welcome, we had a tour of the school, saw the sights of Graz and performed together at an evening concert. An important part of the visit was also spending time with Austrian students and hosting families. Programmes of both school are quite similar and so is their architecture.
The (Re)Mixed choir singers were very pleased with the tour and hopefully there will be further opportunities for future cooperation.