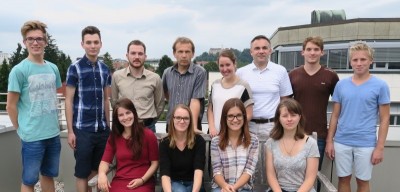 Congratulations go to the entire Slovene team of eight high-school students who participated in the 2015 International Genetically Engineered Machine competition. Naturally, we are especially proud of Nina! Students' hard work and achievements are truly worthy of celebration!
Nina Jerala was chosen in the Slovene team based on her previous research work performed in academic year 2014/15, which was carried out in the National Institute of Chemistry Slovenia. The research was aimed at the reprogrammed E. coli for sustainable production of bio butanol, a highly effective biofuel, from butyric acid, which is a side product of anaerobic fermentation of waste. The research work took place throughout the academic year 2014/15.
Slovene students took part in the competition and iGEM HS conference from 24th-28th September, 2015 in Boston, USA. There they presented their poster, had a presentation and set up their web site. The Slovene team was nominated for the best Wiki, best presentation and the best integrated human practices. Moreover, they presented one of the five nominated projects for Grand Prize among 35 high schools worldwide. The Slovenes were awarded gold medal for the best high school project.
This was the first Slovene high school team to take part in the iGEM HS competition.