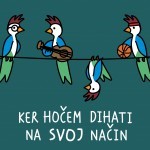 Prospective students, their parents and friends of St. Stanislav's Institution are kindly invited to the open house day which will be held on 30th January 2016. They will become familiar with school programme and its facilities by attending classes in action at the Diocesan Classical Gymnasium (8.00 – 9.55 a.m.) undertaking a guided tour of gymnasium and The Jeglič Students Home various facilities (8.00-12.10 a.m.) and by listening to one of the five school choirs singing. You can attended classes in The Music School of St. Stanislav's Institution (9.00-12.00 a.m.) or joining the guided tour of J. F. Gnidovec Residence Hall (at 12.00 a.m.). Basic information on all schools in St. Stanislav's Institution will be available on that day.  For a more detailed schedule please contact on +386 (0)1 582 22 45 or [email protected]
St. Stanislav's admission information day will be held on 12th February at 9 a.m. and 15 p.m. and 13th February 2016 at 9 a.m.
We look forward to welcoming you to St. Stanislav's Institution.