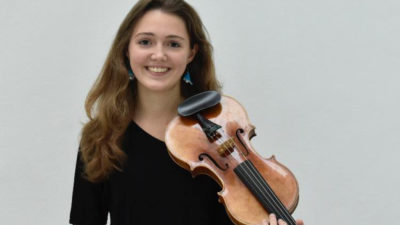 Elizabeta Tomac, has joined twenty-eight other students from all over Europe for winning the 2022 translation contest for secondary schools 'Juvenes Translatores'! Elizabeta translated from French into Slovene. Another student from the DCG, Ana Leskovar, who also translated from French, received a special mention for her translation. Year 2022 was the European Year of Youth, that is why the young Europeans and green policy were the topics of the texts which young translators from across Europe had to translate.
We all agree that Latin, which both of the above-mentioned competitors have been learning now for the third year, contributed to the excellency and accuracy of their translations. In March 2023 Elizabeta will travel to Brussels with Eva Pišljar Suhadolc, English teacher from the DCG in charge of the Juvenes Translatores 2022, to collect the award for the most accurate translation of Slovenia. This year The Diocesan Classical Gymnasium has competed for the sixth time and won the competition four times! Well done indeed!
The Contest in Numbers
For the 16th time since 2007, 2883 students from 681 secondary schools across the European Union translated texts. They could choose from any of the 552 possible combinations between any two of the EU's 24 official languages. Students used 141 language combinations. All winners chose to translate into their strongest language or mother tongue, as the official translators in EU Institutions do. The aim of the contest is to promote language learning in schools and give young people a taste of what it is like to be a translator.
The Slovene Context of Juvenes Translatores
On the national level, there were 31 students competing from eight Slovene high schools. There were five contestants from the DCG, translating from English, French and German. The obligatory languages taught at the DCG are Latin and English, some students take also classical Greek, but all have to choose a third foreign language from German, French, Spanish or Russian. /Lily Schweiger Kotar/