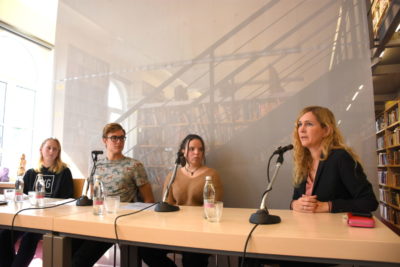 Mrs Kauter paid visit to St. Stanislav's Institution and The Diocesan Classical Gymnasium on Wednesday, 12th October 2022. During her two-hour visit she was greeted by the director of the Institution Anton Česen, the Headmaster of The DCG Rihard Režek, two Germain teachers Irena Bolta and Peter Prašnikar and the Headmaster of Matija Tomc Music School Daniel Eyer.
Since this was Mrs Kauter's first visit to St. Stanislav's Institution, the director walked her through its history and organization. Teachers of Germain spoke of the position of German language learning in Slovenia and the fact that more than half of DCG students take Germain, which is perfectly sensible, considering Slovenia's geographic position and intensive economic collaboration between both countries. Mrs Kauter was impressed by the programme specifics of the DCG, especially the pastoral care and charity activities students take part in.
The most exciting part of the visit was definitely the meeting with about 30 students in the school library. The event was moderated and prepared by students and the subject of their interest were various topics from the duties of an ambassador to comparing life in Germany and Slovenia. They learned that the position of the ambassador to Slovenia is shared between Mrs Kauther and her husband Mrs Pollmann. They alternate the position, which is a rather unique incident in the history of Germain diplomacy. The ambassador admired the high command of foreign languages in Slovenia and is grateful to the Slovenes for their friendly disposition towards the Germains, which is not self- understood, regarding the history related to the atrocities of WWII.
Above the ambassador expressed her enthusiasm about the school, its programme and neatness with the following words: "What a school! My heartfelt thanks to all those who made the visit possible. I appreciate you showing me this particular and special world, full of warmth, knowledge and good energy. Upon the visit I had only one wish: be a kid again, who is very lucky to be able to attend this school again!"  The visit of German ambassador to Slovenia was organized by Irena Bolta, a teacher of German at the Diocesan Classical Gymnasium. /Irena Bolta/