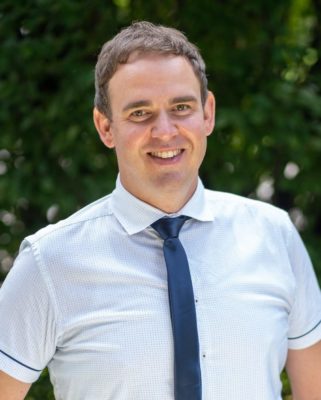 At the beginning of August 2022, a change in leadership took place in the community of The Diocesan Classical Gymnasium. Simon Feštanj, B.A., ceased the employment of The Head Master of The Diocesan Classical Gymnasium and the position was trusted to Rihard Režek, M.Sc.
After nine years of being the Head, Mr Feštanj sees his job as "very satisfying", feeling grateful for all the opportunities of cooperation and challenges that were brought about. He welcomed the new Head by saying: "I believe he will perform his duties with a lot of vigour, all by fulfilling the Institution's mission." Mr. Feštanj will remain a teacher and collaborator in St. Stanislav's Institution.
Mr Režek is an economist by profession. At the University of Maribor, Faculty of Economics and Business he earned his master's degree. He taught at High School of Administration in Ljubljana for 15 years, during which he assumed various leading and teaching related tasks. In 2018 he was appointed the Head Master of Jeglič Student Home and a year later the Head of The Janez F. Gnidovec Residence Hall. He is a husband and a father of two daughters, who loves family life, reading and dancing.
He believes that for the student of The DCG the most fundamental element in the process of education is being a part of the school community. The three pillars of the DCG are the classical, spiritual and creative aspect of teachers' and students' common endeavours. They ensure quality and well-rounded education in which everybody feels valued. Tradition still shapes some of the guiding principles here, but we seek to be looking to the future. A happy and responsible young person who is ready to make a positive contribution to the world is at the heart of school's interest.
We wish Mr Režek all the best on his new mission and trust God's peace with watch over him and his work. /Lily Schweiger Kotar/