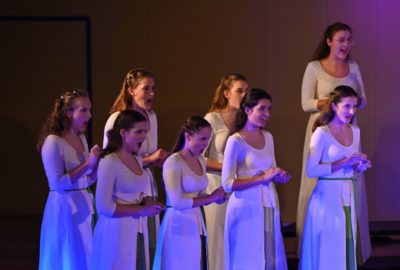 St. Stanislav Girls' Choir, from Ljubljana, Slovenia ranks among the best girl choirs in the world. It is one of the five school choirs at The Diocesan Classical Gymnasium in St. Stanislav's Institution. The choir comprises of 40 girls between the ages of 15 and 18, but there is much turnover among singers; each year about a third of the girls leave at graduation, while new singers join.
Last year the choir prepared an outstanding musical event intertwining songs and dances with the music of an exceptional woman from the High Middle Ages, Saint Hildegard of Bingen. It bears the title Caritas abundant in omnia/ Love Aboundeth in All Things. The musical performance is enriched by a new musical setting by a Slovene composer Damijan Močnik, which combines seamlessly past and present.
Hildegard's music, which represents the spiritual expression of The High Middle Ages, is extremely demanding to recreate. For this very reason, it is so valuable that this project has been launched by such young girls. With all their hearts' creativity they dedicated themselves to the studies of almost one thousand-year-old musical notation and spiritually rich texts, which are so different from anything they encounter today. With courage and determination, they have left behind the world they know, the fast world, often of superficial nature, and entered into the profound message of love, wisdom and the gifts of the Holy Spirit. The choir's interpretation of this Medieval mystic, composer and polymath are full of girls' tenderness and so convincing that overwhelm even the most demanding listener.
Music and choir activities at the Diocesan Classical Gymnasium along with the above-mentioned concert reflect the school's mission statement in its main points. St. Stanislav Girls' Choir with 40 teenage girls, who each definitely seek for their own identity and role, who undoubtedly cannot succeed without each other, without the complementing community, as only together they can sound harmoniously. With their teacher Saint Hildegard, the girls could not but include the Christian values – from their personal faith to music making in a singing community, which both inevitably result in personal growth and excellency in anything the young singers do. The result is inspiring and it fully realises the school's motto Amor magister optimus/Love is the Best Teacher. This is the most precious piece of advice a teacher can give to a student. You are kindly invited to listen to how love sounds!

/Helena Fojkar Zupančič, Lily Schweiger Kotar/