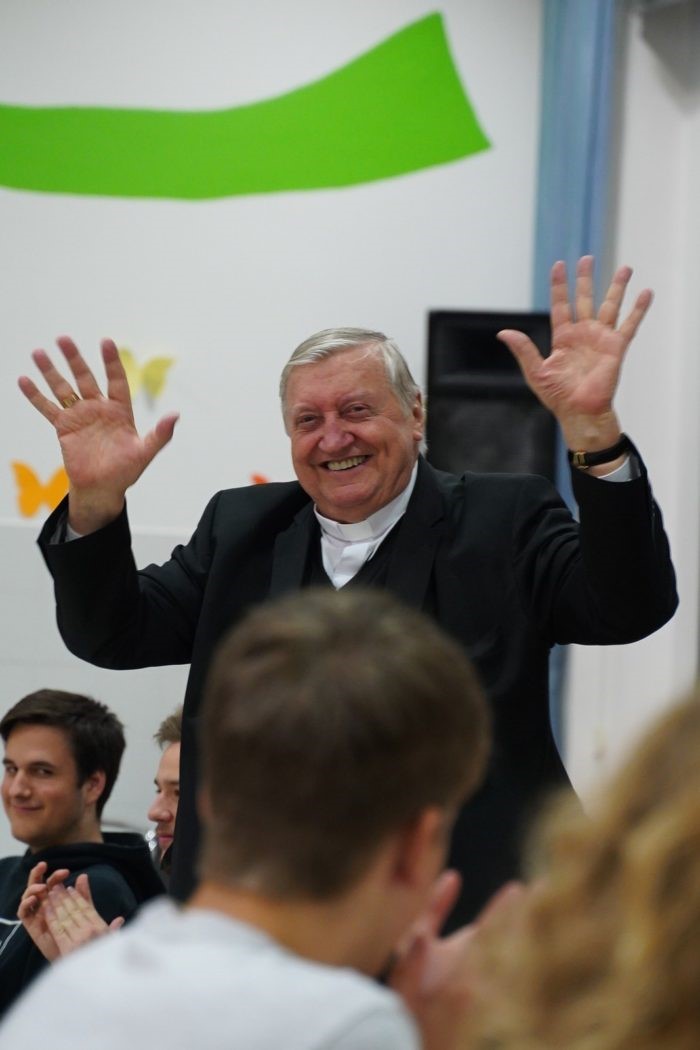 The Archbishop Emeritus of Ljubljana Alojz Uran died on 11th April 2020. It was Holy Saturday. His funeral was held on 15th April in family circle in Ljubljana Cathedral.
Uran was born in Ljubljana and ordained to the priesthood in June 1970. He was appointed Auxiliary Bishop of Ljubljana in 1992,  and served as the Archbishop of Ljubljana from 2004 to 2009. Since 2015 he took part in many pastoral activities, but his health deteriorated in recent years and his activities were limited. Having undergone several surgeries in the last three months, the Ljubljana Archbishop Stanislav Zore noted that the late archbishop had spent his last days in solitude. "He accepted this as part of his offerings" in the line of Uran's bishop motto 'Yes, Father!' .
In St. Stanislav's Institution we feel extremely grateful that Alojz Uran stayed with us under the same roof for ten years and for the impact he left on the school and priest community. He takes the credit for the establishment of The Alojzij Šuštar Primary School, the first Catholic primary school in the country. He will always be remembered for is favourable attitude to people, fervent prayers, enthusiastic singing and simple joy he expressed everywhere he went.
The priests who work in St. Stanislav's Institution celebrated the mass to his honour during which the director Anton Česen outlined Uran's life and work in a form of a letter to a dear friend. He summarized his fruitful life in seven most typical aspects: finding true enjoyment in life, living pastoral eagerness in order to be an announcer of the Gospel, cherishing his love of singing and attachment to the homeland, comprehending the holy mass as a source of any priest's life, developing brotherhood among the priests and, last but not least, the entire school community points at his kind attention to every individual.
All these and many more other features indicate that he lived his life to the full. A thought by one of the alumna of The Diocesan Classical Gymnasium summarises it meaningfully: "This man radiated benevolence. Our meetings in the school corridors were truly inspiring."  May your soul rest in peace, dear Archbishop.  /adapted and written by Lily Schweiger Kotar/