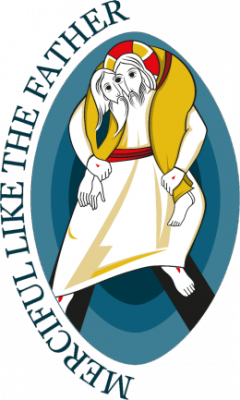 On 8th December 2015 the inauguration of the Jubilee of Mercy took place in Rome when Pope Francis opened the Holy Door in St. Peter's Basilica. In St. Stanislav's Institution, there are many opportunities to pay more attention to God's mercy toward all of us  and to be thoughtful of everyone in everyday life.
Mercy does not mean haughtiness, indulgence and lenience, but the ability to accept other people's needs, embrace their fate in order to help each other at a moment, when a step forward cannot be taken. Mercifulness means being ready to enter the chaos of another person. The logo provides a fitting summary of what the Jubilee Year is all about. The logo, which is to be used worldwide throughout the jubilee year, is the work of Jesuit Father Marko I. Rupnik and presents the Son having taken upon his shoulders the lost soul.
Fr. Rupnik made two mosaics in St. Stanislav's Institution: the major one in St. Stanislav Chapel and another one in the Chapel of Wisdom of God, situated in the Janez F. Gnidovec Residence Hall.