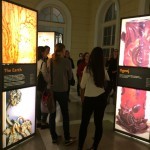 On 4th March 2015 the DCG students and their mentors participating in the project Erasmus+, Art nouveau-Art Renouveau went to see the exhibition entitled New Art and Nature in the National Museum of Slovenia in Ljubljana. The exhibition is a part of an international network of Art Nouveau European cities, with Ljubljana being a part of this group.
The founders of Art Nouveau movement observed and researched natural parameters and motifs and included them in their art, thus establishing a new artistic expressiveness. The nature was considered as a sanctuary and was depicted and interpreted with numerous symbols.
Observing nature and interpreting its symbols is part of the Art Nouveau – Art Renouveau project and therefore we were extremely pleased to have the possibility to see the results of the observations of the Art Nouveau founders from 1900.