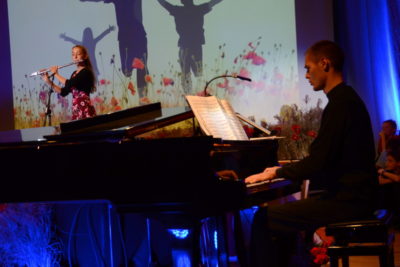 The first step into an entirely new world, the first immersion into the sea of words, the first melody – everything is music …
The above verses are taken from the hymn written on the occasion of the 20th anniversary of The Music School in St. Stanislav's Institution by Primož Bratina, pianist and piano teacher.
The Music School was established in 1996 by the then Archbishop of Ljubljana dr. Alojzij Šuštar. The occasion matches the 200th anniversary of the music education in Slovenia, which is being celebrated this year. In the two decades the Music School has left a remarkable trace and offered countless joyous music events of artistic excellence.
Today The Music School employs 25 teachers engaged in teaching and inspiring about 240 students. Apart from musical theory, sight singing, jazz singing and preschool music, 11 instruments are taught, along with music making in chamber and large string orchestra as well as the guitar ensemble. Teachers devote special attention to students' creativity. A lot of students excel in competitions at different levels from regional to international, some take in music as a professional path in their lives and continue studies at music academies at home and abroad.
To commemorate the 20th anniversary of the Music School several events will unfold. The solemn celebration to honour the patron's day of St. Stanislav' was already set up on 15th November by the staff of the music school and understandably music played an important part. If you missed it, another concert will be put on in the Slovenian Philharmonic on 1st December 2016 at 6. p.m. This will offer another opportunity to listen instrumentalists, singers, guitar ensemble and to Bratina's Hymn accompanied by four choirs and the large string orchestra. What an appropriate was to celebrate the life of a music school  –  with music touching everybody's heart! /Lily Schweiger Kotar/