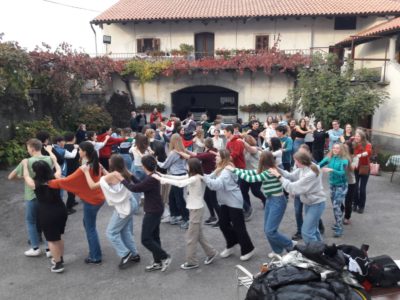 The Erasmus+ project Futur€nvironment held its second project meeting for students and teachers (LTTA- Learning Teaching Training Activity) from 17 to 21 October, 2022 in St. Stanislav's Institution. It hosted 39 students from five partner schools from Belgium, France, Germany, North Macedonia and Scotland along with 15 teachers. Most of the guest students stayed with Slovene families, but a few also stayed in The Jeglič's Student Home. The aim of the meeting was to exchange good practices in environmental protection and conservation in the field of energy and waste management, focusing on the small steps that each individual can contribute by following the 5 R's: refuse, reduce, reuse, reuse, rot, recycle.
Monday, October 17
The arrival of guests marked this day. Two groups arrived in the morning and spent the time enjoying the sunshine. All but the Scottish group met their hosts in the afternoon. After the first excitement, the talks flowed and the hosts took their guests to their homes. Late in the evening we were joined by the Scots.
Tuesday, October 18
We started the morning by working in groups, playing a board game and talking about taking care of the environment. The guests were given a tour around the primary and secondary school and had lunch in the school canteen. In the afternoon we went to Ljubljana where we had a city tour to see the sights and green spots of the city. In the evening our guests went to Kurešček, where they stargazed and learnt about light pollution.
Wednesday, October 19
We started the day having four different workshops where our guests did origami bees and beehives, sewed some bags, made natural dyes and learnt something new about light pollution. Having eaten lunch, we went to Ljubljana where our guests visited the House of Experiments and had a selfie tour around the city.
Thursday, October 20
On the final day of the exchange we went on a trip to the South Western part of Slovenia. We visited the Škocjan Caves regional park, went for a walk around the collapse dolines and saw the majestic caves themselves. We had lunch in a local inn Muha, followed by the closing ceremony and some traditional dances. On this  exchange we made some friends for life. /Ema Kobav, year 4/