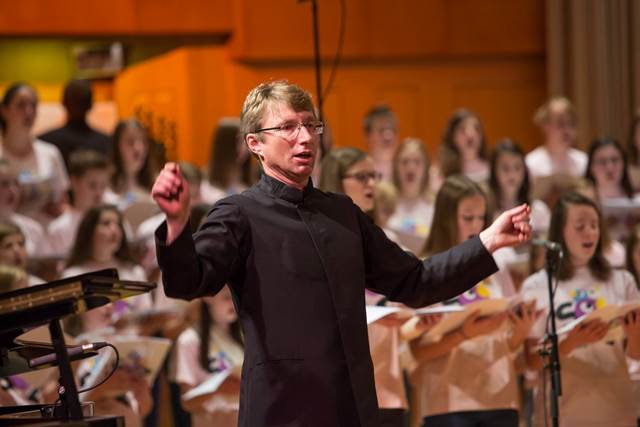 St. Stanislav's Institution is proud to announce that composer, conductor and music teacher Damijan Močnik won Prešeren Fund Award 2022 for his creative opus in the field of vocal and vocal-instrumental music that have been presented to the public in the last three years.
Prešeren Awards and Prešeren Fund Awards are the highest recognition in the Republic of Slovenia for achievements in the field of artistic creation. The awards are named after France Prešeren, the greatest Slovene poet. They are presented at a ceremony to mark Prešeren Day, the Slovenian national cultural holiday.
Damijan Močnik is known to the community of St. Stanisalv's Insitution as the music pedagogue and enthusiast who has devoted much attention to the systematic training of choral singers at The Diocesan Classical Gymnasium since its re-opening in 1993. He believes that music importantly and decisively underpins the school curriculum. Almost half of 600 singing students, who sing in 5 choirs, are a living proof of it. The choirs vary according to the age of their singers and the level of their repertoire and form a choral pyramid. Due to its large scope, the number of participating students and quality, this choral programme is quite unique among Slovene schools as well as within the European school context.
A section of the justification for awarding runs as follows: »Damijan Močnik has established himself as one of the most prominent Slovene choral and vocal-instrumental composers. His works, which are worldwide regularly interpreted at the most prestigious festivals by some of the best professional choirs, have earned him international recognition. Among his most outstanding works are the opera I like you for six soloists, youth choir and chamber orchestra; a composition Pasche for solo soprano, male quartet, Medieval instruments and percussion; and another composition entitled Peregrinatio for three mixed choirs. The most recent one worth mentioning is a long cantata An die Freude (Ode To Joy), which was commissioned by The Music Academy in Baden-Württemberg to celebrate the anniversary of Beethoven's birth.« However, in St. Stanislav's Institution Močnik's most widely performed pieces are The Canticle of the Sun for soloists, two choirs, organ and orchestra, which he composed on the occasion of the twentieth anniversary of the reopening of The Diocesan Classical Gymnasium; and the composition Jerusalem, which was written for St. Stanislav Girls' Choir to be performed at the 11th World Symposium on Choral Music in July 2017 in Barcelona, Spain.
Thanks to Damijan Močnik and other dedicated musicians in St. Stanislav's Institution choral singing has become something of value, joy and a lifelong personal fulfilment for many students. Heartfelt congratulations to you, Damijan! /Lily Schweiger Kotar/