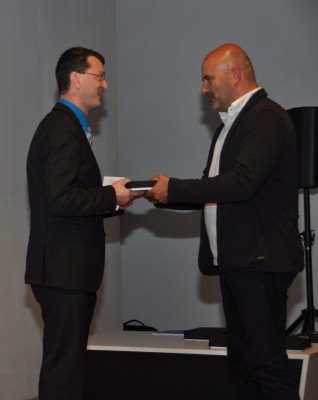 The Chamber of Architecture and Spatial Planning of Slovenia conferred on 9th October, 2015 professional awards for the most important achievements in architecture, landscape architecture and spatial planning. The Golden Pencil award for the outstanding realization in architecture and spatial planning was presented to Studio UR.A.D. for the project of The Alojzij Šuštar Primary School.
From the award justification:
This substantial annex accommodation appears to draw itself out from its historic institutional context as if to free from former constraints and regulations, creating new space, meaning, and occupation with distinct qualities of lightness and a sense of liberty.
The new development is unabashedly contemporary, set as it is against the backdrop of its predecessor in both form and scale. Yet it has been carefully conceived to sensitively align with the existing by following the grain of the former, maintaining a central spline through the site, and at its perimeter reading. This approach has interestingly allowed a somewhat previously out of place detached sports hall, to now be successfully integrated within the overall ensemble. In fact it is the clever structuring of external spaces set between these features, in conjunction with the introduction of two new positive entry facades and adjoining activity spaces, that stand out to demonstrate an accomplished degree of planning, whereby these built forms have been unified in a kind of natural progression.
Internally, new school accommodation spreads in wings from a central atrium cum assembly hal1/ auditorium featuring direct engagement with extei'iia1 landscape areas at ground level and light-filled classroom spaces on the first floor to provide positive, purposeful facilities. A substantial new multi-function gymnasium hall set partly into the ground, along with ancillary accommodation, is included, yet these elements have been structured so as to be subservient to the primary facilities.
A delightful and beautifully conceived additional feature comes in the form of a small chapel set floating within the main auditorium space. This discrete piece, with its oblique entry, modest adornment and well considered detail, is further example of a successful yet unpretentious overall design.
It will be interesting to see how external landscaping work develops in and around the new accommodation as these external rooms offer further opportunity to enhance the overall scheme.