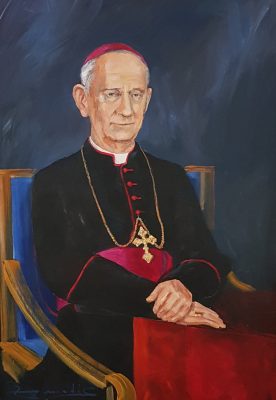 Each year the entire school community of St. Stanislav's Institution celebrates St. Stanislaus' Day to mark the feast of the Institution's patron. It took place on 13th November 2020, in particular to celebrate the many talents and successes of the pupils of Alojzij Šuštar Primary School and the students of Diocesan Classical Gymnasium. The headmasters addressed the students and offered a flashback of the academic year that was so abruptly brought to an end by the pandemic. This year's festivities were held under the title of Fulfilling God's Will, which was the motto of Alojzij Šuštar (1920-2007), the Archbishop of Ljubljana between 1980-97. The centenary of his birth is being celebrated this academic year. Unlike previous years, all celebrations have been restricted to virtual mediums and consequently, for the first time in the history of the re-establishment of St. Stanislav's Institution the event has been prepared digitally by Studio Siposh and followed online. This year's programme was in hands of Mojca Lavrič of The Diocesan Classical Gymnasium and turned out to be a happy feast of mind and soul.
Considering new doorways
Holy mass was celebrated in the school chapel by the Archbishop of Ljubljana Msgr. Stanislav Zore and school chaplains. He spoke of the obstacles in our lives, which should never prevent us from going on, offering a remarkable example of the life of Institution's patron saint St. Stanislaus Kostka. He never let the obstacles stop him on his way to reach his goals and the Archbishop encouraged the students to seek for new routes, new possibilities and new doorways.
"The magic of music lies in pauses … We all need them desperately."
With these words Karel Gržan, Ph.D. reflected upon the challenges of today's world, considering above all the outstanding message of Šuštar's life and work. The director of St. Stanislav's Institution Anton Česen, M.A. pointed out at Šuštar's decisive role in legislatively re-establishing St. Stanislav's Institution for education. He also expressed gratitude to the keen supporters of the Institution. The performance was given by the students of all schools, fusing teachers and students, actors, singers, dancers and instrumentalists into a meaningful entity.
"Archbishop Šuštar was a very kind and prudent person."
The entire school community was greeted also by the President of the Republic of Slovenia Borut Pahor. He congratulated the Institution on the school's day and shared some happy memories of Archbishop Šuštar with the audience. He said he felt eternally thankful for what he had done for the Slovenes and Slovenia and urged the young to follow Šuštar's inspiration.
/Lily Schweiger Kotar/