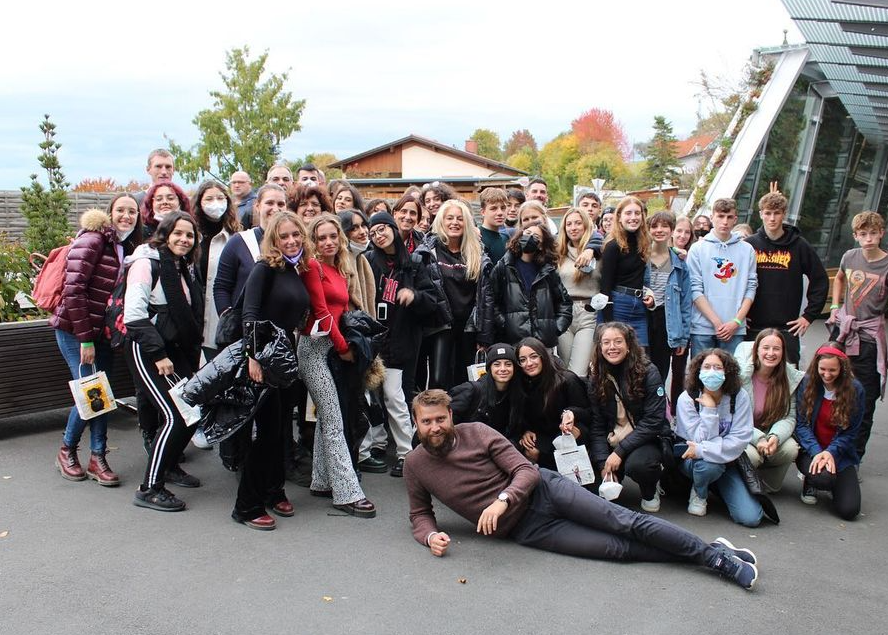 Like all the activities in the past two years, the Graz exchange program was affected by coronavirus. Sadly, this was the case even on the long-expected meeting day, this time in person (and not in Teams), in Ljubljana with our fellow Italian students from Sicily. Due to infection in our class, both Marko and I were obliged to keep safety distance and could not therefore greet the Italian students properly. Still, we were better off than three of our classmates who had to stay at home. The event took place from 17-24 October 2021 in Graz, Austria and in different locations in Slovenia.
The week ahead of us started in a bumpy way, but apart from a nervous morning the following day on 18th October, while waiting for the covid test results, nothing could spoil the days in Graz. At nine o'clock on Monday we were all present in the great hall of Bischöfliches Gymnasium, including students from Sicily, Graz and Ljubljana. We were then greeted by Mr Rifel and Ms Renate Höck, the coordinators of the exchange programme. With that the Afirme project was officially open. The five days spent at "Bischgym", as the students from Graz like to call their school, consisted of morning warm-up lectures, team workshops and afternoon activities, all of them carefully designed by students from Graz. It is more than fair to say that we enjoyed every minute of it. We learned a lot about active citizenship and environmental friendly economy through morning lectures. The workshops were great for students to get to know each other and they addressed all sorts of issues such as sustainability and the world of disabled people. The afternoon activities were primarily designed for students to hang out during sport activities or enjoy free time in Graz. Our schedules were packed till late in the evening when we finished our day at with a joint dinner at the "Cool Raum?".
I can't deny the fact that I was at times exhausted from all the activities of previous days, however, that was not considered as an excuse to come late to the morning lectures. At Bischgym punctuality was of great importance, otherwise Frau Renate Höck was rightfully expected to feel displeased. This, however, was not the only aspect marking Bischgym, which was perhaps unusual for some. I was astonished at the sight of how many bicycles were parked in front of the school's main entrance. In fact, there is very little traffic in the center of Graz, except for trams, buses and of course bicycles – a proof that every individual can contribute to reducing carbon footprint.
On Thursday, before heading to Slovenia on Friday, we went out for some sightseeing. The original plan was to see the glacier but the weather was off, so we went to the nearby castle Riegersburg and afterwards to the Zotter chocolate factory. For those of you who haven't had the chance to visit it yet, the Zotter chocolate factory is famous for its "you can taste everything" concept. A visitor can taste every stage of chocolate making – from roasted cocoa seeds to the end product. No wonder everyone was bursting with joy, when in reality we were stepping in an all-you-can-eat chocolate buffet!
The last days of the exchange program were spent in Slovenia, where we focused on entrepreneurship and the process of finding interesting ideas and putting them out on the market. We also guided the students from Sicily and Graz through Ljubljana city center and even got the chance to go for a hiking trip up a mountain "Tromeja"/Triple Border, the point where all three participating countries in the programme share borders.
In total the Graz exchange programme was a great success, yet this does not end the Afirme programme. In spring we are hopefully visiting Sicily and I think we are all anxiously waiting for that day to come. /Amber Bervar, year 4/