Project Coordinator at St. Stanislav's Institution: Valerija Lah Peternel
Start date: 1. 9. 2019
End date: 31. 8. 2021
Coordinating Institution: Wellington School, Ayr, UK
Partner Institutions:
St. Stanislav's Institution, Ljubljana, Slovenia
Sint-Jozefsinstituut College, Geraardsbergen, Belgium,
Project in the programme: Erasmus +, KA 2 (schools only)
General Description of the Project:

Small Countries Strong Cultures is a an Erasmus+ project connecting three schools in three countries namely Scotland (the UK), Flanders (Belgium) and Slovenia. The aim of the project is to spread and strengthen the awareness of national cultural heritage and its importance in building a strong European community. With nationalisms on the rise, we want to show the young that they can be loyal to their local community, their country and the EU at the same time – all by learning from the past and being active citizens. /Valerija Lah Peternel, project coordinator/
News about the project:
Erasmus+ (Small Countries Strong Cultures) and UCAPE Conference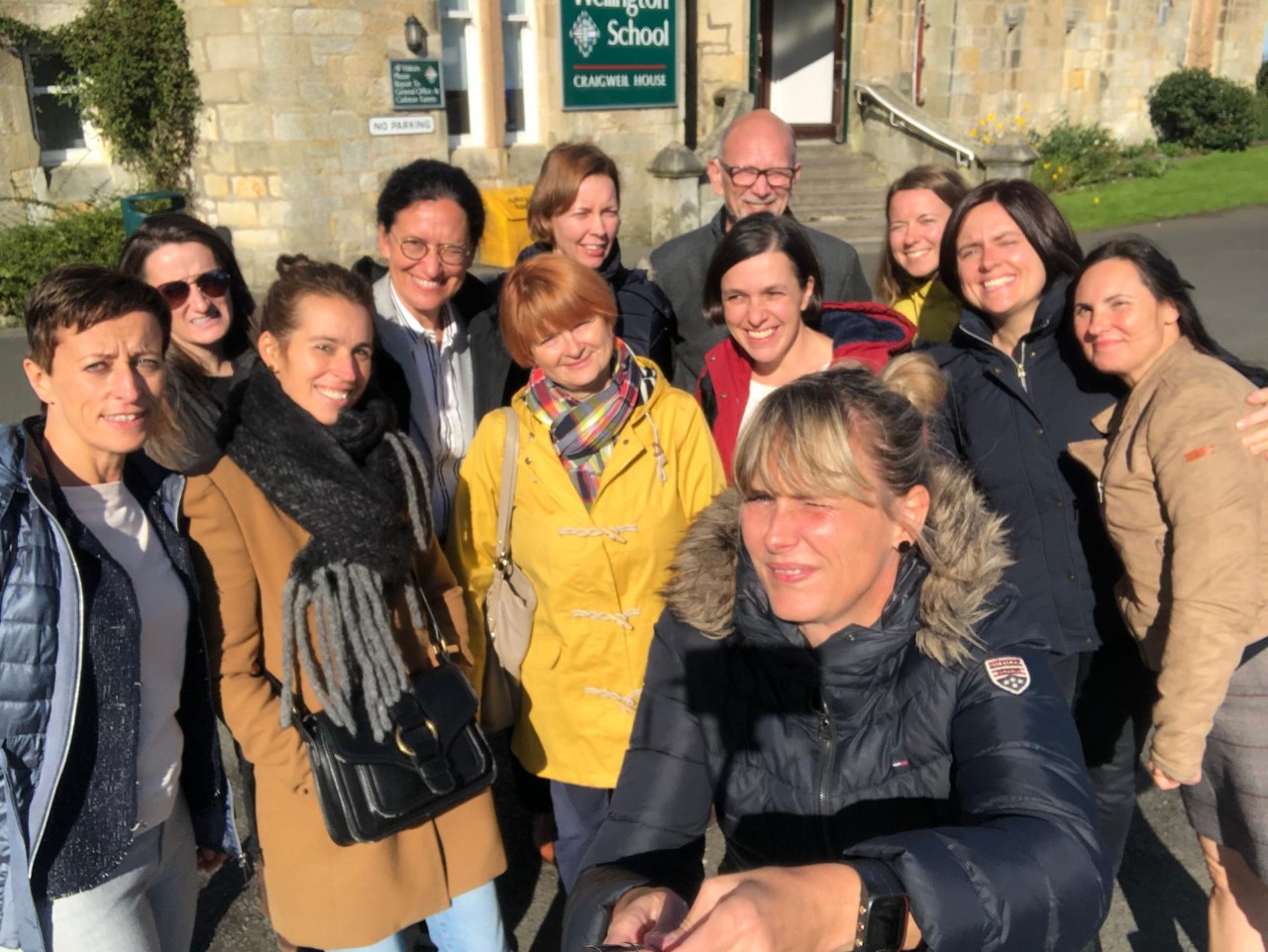 From 1st – 6th October 2019 the first staff mobility of the new Erasmus+ project Small Countires Strong Cultures took place at Wellington School in  Ayr (Scotland). At the same time the annual UCAPE conference took place with about 80, mainly French teachers, from Catholic primary and secondary schools.
The meetings covering Small Countries Strong Cultures brought together the entire Belgian team from Sint Rembert (Torhout) with their director and deputy head, the welcoming group from Scotland, led by Ms Susan Coontz, and the Slovenian team (Valerija Lah Peternel, Alenka Battelino, Eva Pišljar Suhadolc, Lily Schweiger Kotar). The meetings included finalizing the preparations for the first student mobility which is to take place in Slovenia in February 2020, funding rules for the grant, partnership agreements and taking part in the e Twinning workshop given by Gary Shiells, the representative of the British Council in the UK. One of the highlights of the visit was most definitely the Wellington school students' performance of  Andrew Lloyd Webber's Phantom of the Opera. The tragic love story was brought to life at The Gaiety Theatre with a lot of musicality, breathtaking special effects and scenery.  Friends of Wellinton, teachers, parents were justifiably proud of the magic night. Well done Wellington school!
UCAPE whose mission is to build knowledge, values and skills for global citizenship is an international association open to all schools which share the same values. In Ayr the general assembly took place with plenty of opportunities for networking along with new arrangements for the exchanges that were set up. Mr Dominique Bernard, Director of Institution Saint Dominique (France) and the present president of the UCAPE, gave the introductory speech accentuating the fact that if anybody in  modern Europe needs to go beyond meeting students' everyday needs, it is the teachers at Catholic schools. The yearly report followed some interesting presentations of Scottish culture and students' good practice carried out at Wellington under the supervision of Ms Coontz, a dedicated member of the UCAPE board. /Lily Schweiger Kotar/